New Work and Work in Progress
(Please scroll down to see all of the work posted on this page.)
Beckie's sculpture "Unmasked" is on display at the A.P.E gallery in Northampton, MA as part of SEEING OURSELVES: Self-Portraits by 50 Women Artists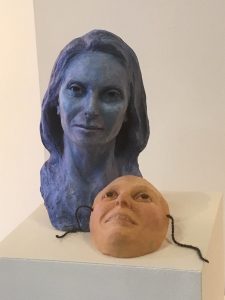 "Reunion" is on display until November, 2018 at the biennial Art in the Orchard outdoor exhibition in Easthampton, MA.
Beckie completed the second phase of a commission to help restore the historic Dutch House in Brookline, Massachusetts. A full description of the project can be see on the Architectural Restoration page of this site.
For this current phase of restoration, Beckie sculpted the outer elements of the door frame, using an original watercolor sketch as reference. Other members of the restoration team worked on the eagle, pediment and panels closest to the door. The elements Beckie created are circled in the sketch: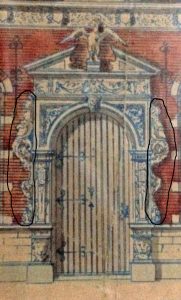 Her interpretation of the sketch is pictured below. This is the clay sculpture, ready to go to the mold-maker. The final castings were done in Forton MG (a reinforced gypsum cement). Molds and casting were beautifully done by Joey Pesce of Pygmalion Elements & Sculpture.

Here is the completed installation.
July 2016: A portrait mask of violinist André Rieu was commissioned by one of his fans, to be worn at André's July 2016 concertin Maastricht.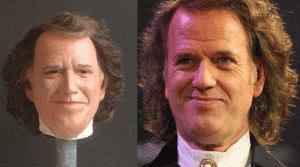 March 2016: "Carrying Capacity", created in collaboration with Nancy Milliken, was on display in Brookline, MA during March, 2016. The installation was created as part of Brookline Climate Week. The accompanying signage elaborates: "As we add a million more humans every 4.2 days, our demands for food, shelter, goods, mobility, and energy exceed the carrying capacities of both our atmosphere and our planet. The squashed Earth can barely support this ghostly figure, weighed down by the spilling mass of people and looking wistfully at the viewer, imploring an answer. "
In spring of 2016, Beckie's masks of a ringtail cat and great horned owl were installed at the Arizona Sonora Desert Museum as part of poet-in-residence Eric Magrane's Woven Words project. Each mask has a fragment of a poem etched inside. The masks are located in the Mountain Woodlands area of the Museum.
May 2016: For the American premiere of Trina Davies' Waxworks at Williams College, Beckie created portraits of historical figures, and some of the actors in the play, for a series of Madame Tussad-like heads. (The play tells the early history of Mme. Tussad, as a young woman living in Paris at the time of the French Revolution.)