NEWS
Studio Sale– All in-stock pieces are currently being offered at discounted prices. For images and price-list please visit this link:
https://www.smugmug.com/gallery/n-7rKpmZ
March 2018 Beckie is creating masks for the Double Edge Theatre world premiere of Leonora & Alejandro: La Maga y El Maestro March 17-18 and 22-25, 2018
November 3 – December 3, 2017 Beckie's sculpture "Unmasked" was on display at the A.P.E gallery in Northampton, MA as part of SEEING OURSELVES: Self-Portraits by 50 Women Artists
Summer 2017/Fall 2018 Beckie's sculpture installation "Encounters" is on display at the 2017-2018 Art in the Orchard outdoor exhibition in Easthampton, MA. The work will be on display from mid-August to the end of November.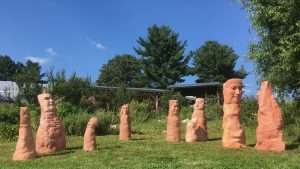 December 2016 Beckie completed the second phase of a commission to help restore the historic Dutch House in Brookline, Massachusetts. A full description of the project can be seen on the Architectural Restoration page of this site.
March 2016 A sculptural installation titled "Carrying Capacity", created in collaboration with Nancy Milliken, was on display in Brookline, MA for the month of March. See the Recent page for photos and more information.
October 2015 The Arizona Sonora Desert Museum commissioned Beckie to create two animal masks inscribed with poetry fragments, which will be permanently installed at the Museum as part of the Woven Words project.
Beckie's portrait mask "Verdi Dreams" was on display along with more of her work, and pieces by 7 other artists, as part of The Diorama Show at the A.P.E. Gallery in Northampton, MA For more images of the exhibition, please visit this gallery.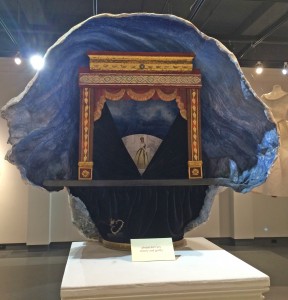 August 29-September 23, 2014: Beckie's sculptures The Closet and Dismay Pole were shown at Tansey Contemporary Gallery in Santa Fe, NM, as part of the Women in Cultural Context exhibition.
November 2013: "Siegmund and Sieglinde" was on display at the National Arts Club in New York City, as part of the 100th annual Allied Artists of America National Juried Exhibition.

Fall 2013: Beckie was the recipient of an Artist-in-Residence grant to work with students at Berkshire Trail Elementary School creating a ceramic tile mural on the theme of local history. The mural was unveiled in October 2013.
June 2013: Beckie's Chagall-inspired masks created for the Double Edge Theater production "The Grand Parade: of the 20th Century" were featured in the window of the Martin Lawrence Gallery in Boston, in conjunction with their Chagall exhibition.
May 2013: "Siegmund and Sieglinde" was on display in Lyme, CT as part of the Hudson Valley Art Association annual juried exhibition.
Beckie's masks were featured in a February 2013 lobby exhibition at the Mead Center for American Theater (Arena Stage) in Washington DC.
Beckie's sculpture "The Closet" was awarded the Silver Medal for Sculpture in the Allied Artists of America National Juried Exhibition November 9-18 2012 National Arts Club, 15 Gramercy Park South, NY, NY 10003
Beckie's installation "Witness" was published in the December 2012 issue of the Black Tongue review (issue is now sold out, but appears online)

New Hampshire Institute of Art: Ceramics Biennial 2012 November 7- December 5, 2012 Beckie's sculpture "Dismay Pole" was included in this exhibition.
The Metropolitan Opera, April 2012
Beckie's opera-inspired sculptures and masks were featured in an exhibition at the MetOpera Shop at Lincoln Center. The exhibition included an on-site sculpting demonstration.
The State of Clay 2012
Beckie's sculpture "Dangerous Games" was included in the 7th Biennial State of Clay exhibition in Lexington, MA.
A solo exhibition with Haolihai Arts in Guangzhou, China is in the planning stages
National Sculpture Society Juried online exhibition
Beckie's sculpture "The Closet" is included in "Recent Work" Click HERE to see the exhibition.
October 2011
Two of Beckie's pieces were selected for the nationally juried exhibition "Masks" at the Torpedo Factory Target Gallery in Alexandria, VA.
August 2010
Solo exhibition "Concealed/Revealed"at the Hathaway Gallery, Oneonta, New York.
March 2010
Solo exhibition, "Muses, Mystics and Masks", at the Tansey Gallery in Tucson, AZ.
October 2009
"Witness": A solo exhibition at the Student Union Art Gallery, UMass Amherst, featuring an installation of 23 life-sized ceramic heads and busts.
Click HERE to see images of "Witness".
Additional News
Summer 2010
Online photography magazine, "Visura" , Issue 10.
Photographer Jeff Jacobson's monthly column "In the USA" featured an image taken at the opening of Beckie's "Witness" exhibition.
Purim Masks
Beckie's masks have been featured in several Purim mask exhibitions at synagogues and Jewish Community Centers around the country. To see some of her Purim-themed masks, please click HERE.